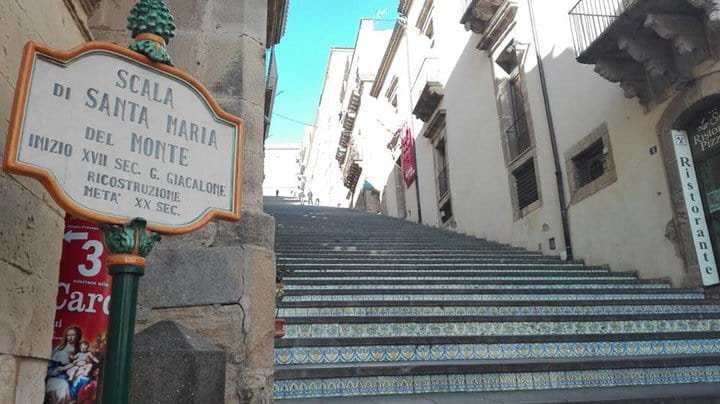 The staircase of Santa Maria del Monte in Caltagirone represents the symbol of the city.
The stairway is made of one hundred and forty-two steps for 130 meters in length and it connects the church of the same name to Piazza Municipio.
Each step is made up of ceramic tiles decorated and colored in polychrome, echoing Sicilian motifs ranging from the tenth to the twentieth century.
The scenographic impact of this staircase is truly impressive, both for its majesty and for the accuracy in the decoration of the tiles.
The themes represented ideally divide the staircase into a dozen sectors, in which figurative, geometric and floral elements alternate representing different styles and different eras: from the Arab-Norman to the Angevin-Aragonese, from the Swabian to the Spanish, passing through the Barocco style (which is part of the Unesco inheritage), the eighteenth century and the contemporary nineteenth century.
On the stairway, tile by tile, you will be able to see centuries of domination and contamination.
It is a plastic representation of the history of Sicily and its relationship with the populations who crossed it and left something of their skills and their traditions.
The staircase is a sort of open-air museum, thanks to this ability to retrace much of the history of art and architecture of the island.
The Staircase of Santa Maria del Monte during the Infiorata (Flower festival)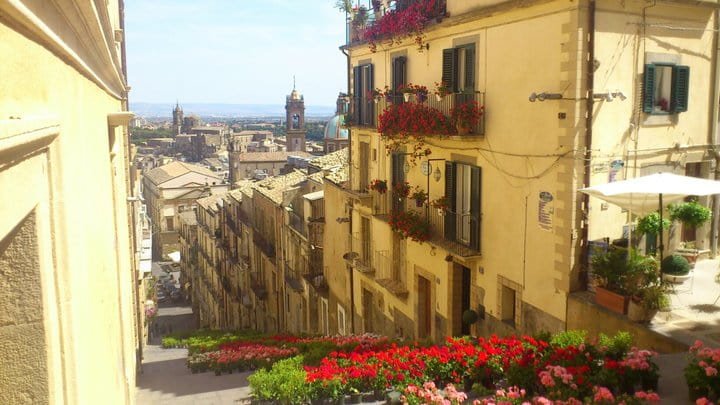 Over time, the staircase has become a symbol of Caltagirone and its polychrome and symbolic vocation is enhanced in various moments of the popular Calatina tradition: mainly in the month of May, with the Infiorata, when the already colorful tiles are covered with vases and flowers, citizens' floral homage to the Madonna.
In those days, thousands of vases and plants join the colored ceramics, forming a riot that incorporates the shades of the rainbow.
Feast of San Giacomo in Caltagirone
The other symbolic and exciting moment in which the Santa Maria del Monte stairway becomes the "lively" and colorful center of the city is undoubtedly on the occasion of the feast of Saint James the Great.
During this day candles are placed on the steps and once they are lit, they become the only source of illumination.
The whole procedure is carried out in rigorous silence and the positioning of the oil lamps responds to a precise decorative "theme": for about two hours the staircase is illuminated by this serpent of fire, in a suggestive scenic representation that will take your breath away for the beauty and spirituality that emanates.
Both events, the Infiorata and the feast of San Giacomo, attract thousands of visitors to Caltagirone every year.