Ballarò market in Palermo is an amazing mix of alleys full of stalls with merchandise of all kinds from all over the world. Visiting this historical market is certainly a must for anyone traveling to the Sicilian capital.
This is certainly one of the most important stops on a good tour of Palermo, it must necessarily be part of your itinerary and we will see why below.
Origin and history
Ballarò is a street market with a very ancient history (it was born more than 1000 years ago) and it is one of the most dynamic and lively places in all of Palermo.
In fact, its origins date back to the 10th century, that is to the times of the Arab domination in Sicily. Its name derives precisely from "Suq Al-Balhara", (literally "Market of mirrors") and it was the Arab market where traders sold products and spices. It has been translated by local people into "Ballarò" by assonance.
What many do not know is that the Ballarò market was born outside the Phoenician walls of the city. Why?
The reason is simple: no duties were paid outside the city. It was also possible to enter and exit the market at any time, while the city gates were closed at a certain hour and from that moment it was no longer possible to enter or exit.
The display of the merchandise and the abbanniata
As mentioned, Ballarò is a typical Arab market, and its "founders" are responsible for the characteristic atmosphere that can be breathed today as then in its narrow streets.
In the meantime let's say that the goods do not come randomly, but that on the contrary the display is taken care of to the utmost to entice customers to buy as much as possible.
For this reason, the goods are displayed on the classic "bancate" (which in Italian we can translate as "counter"), that is tables placed on two or more trestles on which the merchandise is placed.
To keep the fish always "fresh" and to prevent it from drying out, it is continuously wetted with fresh water. Cheeses and meat are instead often placed on lettuce leaves or placed next to beautiful bunches of tomatoes.
L'abbanniata siciliana
The banis ("Abbanniata" in Italian) is the Sicilian (but very Eastern) way of offering one's goods to passers-by shouting, enhancing the freshness and quality of what is being sold.
There is no standard abbanniata, but each seller invents one and that becomes a sort of trademark that identifies it. Some "abbanniate" seem like little nursery rhymes, as they are so long and mocked.
To protect from the sun and rain, pitched roofs made of typically red fabric are installed and the lighting of the goods on display is guaranteed by powerful lamps with typically warm tones.
The red roofs, the warm light of the lamps, the counters full of merchandise, pots that smoke and the scents of spices that surround you … this is Ballarò!
You will see that in Ballarò, as in all the other historical markets of Palermo, some traders do not have banks in which to display the goods but they hold a "putìa" (from the Latin "apotheca" that is "bottega", "warehouse"), a small shop where you can directly enter and choose the goods displayed on the shelves.
What can you buy at the Ballarò market in Palermo?
At the Ballarò market it is possible to buy just about everything. Most of the merchandise on display comes from the Palermo countryside, from the fruit and vegetable market in Palermo and from local fish.
Unlike what happened at the Vucciria market (in fact it no longer exists) this historic market continues to keep its popular heat alive and is still a swarm of people who shop, people of all ages and social backgrounds.
As in all markets in the world, it is up to you (this is the beauty of entering a market) to determine what is particularly fresh and what is not, what is affordable and what is expensive.
Everyday food
On the counters it is possible to find foods such as fresh fish, meat, vegetables, vegetables, olives, fruit and cheeses as well as traditional products, or the exquisite Sicilian sweets.
There are also vendors "armed" with various pots where you can find boiled octopus (also to eat on the spot), boiled potatoes, freshly made ricotta, boiled artichokes and various condiments for pasta.
The value for money, among other things, is truly excellent according to the same people from Palermo. In fact, two or 3 euros are enough to fill a shopping bag or to make a complete meal.
Desserts
The sweet tooth will in fact be happy to know that among the stalls of Ballarò it is also possible to find many types of sweets typical of the more traditional Palermo cuisine such as cubbàita (i.e. almond nougat), carob candies, buccellati, cannellini (white, pink and blue candies with cinnamon inside) as well as typical ricotta-based sweets such as cannoli.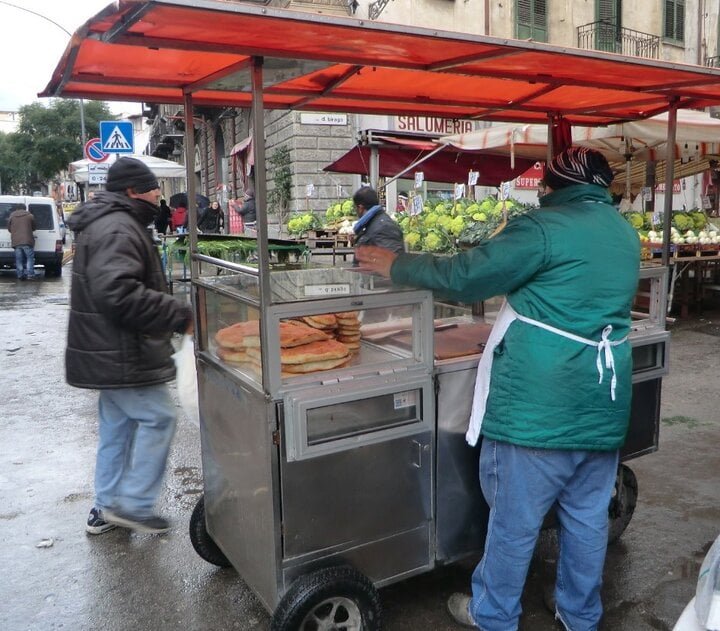 Street food
Ballarò market in Palermo is in fact the best place to enjoy sicilian street food, very tasty and freshly prepared. In fact, between one stall and another you will be able to find those who sell you the typical bread with panelle and crocchè from Palermo, sfincione, stigghiola, "u pani ca' meusa", arancine, frittola and rascatura, just to name a few.
For some years Ballarò has also become a place for nightlife: in the evening it is a fixed stop for young people who want to drink something and accompany them with typical food.
What to see in Ballarò market?
From a historical and architectural point of view, the neighborhood where Ballarò market in Palermo (the Albergheria) stands is full of churches, monuments and noble palaces.
Monuments and churches
Among the most important, you should not miss the Church of Carmine Maggiore (Piazza Carmine, 1), whose dome has particularly picturesque blue and green tiles. A few tens of meters on foot and it is possible to reach the Tower of San Nicolò di Bari (Via Nasi Nunzio, 18), a quadrangular civic tower that stands next to the Church of San Nicolò all'Albergheria (Via S. Nicolò All'Albergheria) of the XIII century.
A two-minute walk away there is also the Oratorio del Carminello (Via Porta Sant'Agata, 19), a small architectural jewel in which it is possible to admire, among other things, some stucco reliefs attributed to Giacomo Serpotta (some actually hypothesize these are the work of his son) and a crypt.
We suggest you also see the monumental complex of Santa Chiara with its reception house and the oratory which is a symbol of the typical hospitality of this neighborhood.
On some buildings in Ballarò the signs of the bombing of 1943 are still evident.
The street Art of Ballarò
For some years Ballarò has embraced beauty even more thanks to Street Art.
The young people of Palermo have in fact given their social and artistic contribution by enriching the walls and buildings of Ballarò with murals and urban paintings, one of which depicts the actor Franco Franchi who passed away in 1992.
How to get to Ballarò Market in Palermo
The Ballarò market in Palermo is located in the center, in the Albergheria district. It is bordered by corso Tukory on one side and Via Maqueda on the other.
It can be reached on foot from the Central Station, along corso Tukory and then via Dalmazio Birago. Those coming from via Maqueda can access from via Del Bosco or one of the parallels that descend to the Arco di Cutò.
Ballarò market: useful information
Opening hours: The Ballarò market is always open, from 07:00 to 20:00, morning and afternoon every day of the week except Sundays.
When to go?: The "highlight" for shopping is on Saturday morning, when the market becomes particularly crowded and the stalls are all open. In any case, shopping here is an amazing experience you won't easily forget!
Address: The main entrance of the Ballarò market is located in Via Dalmazio Birago 2, 90134 Palermo. You can also access the market from some side streets of via Maqueda such as via Cesare Battisti, via delle Pergole, via Del Bosco or from the Arco di Cutò.
What is the best way to visit the Ballarò market ?: Have fun, distinguish the perfumes arriving from the stalls, watch the spectacle of the goods on display and taste what you like.
This is the best way to visit the market and immerse yourself in our culture! Here you will find the official page of the Municipality of Palermo dedicated to the Ballarò Market.