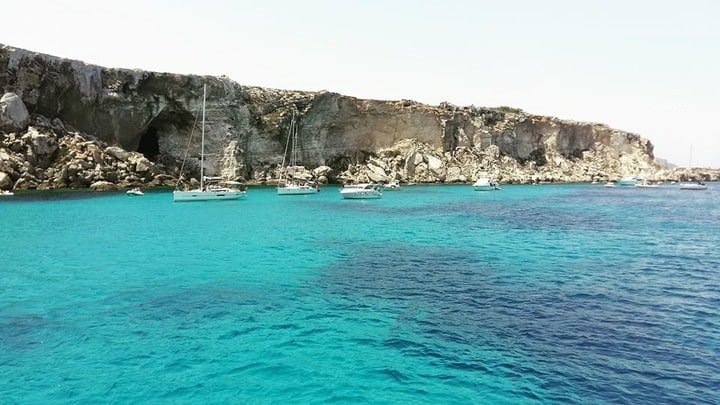 Sicilia in barca vela – EN
"*" indicates required fields
If you are thinking of a tour in the Aegadian islands on a sailing boat it is because, unknowingly, you have decided to discover what Paradise will be like. 
No, we are not exaggerating.
In the Egadi you can truly find that peaceful atmosphere you need for your holidays and those glimpses that you never tire of looking at, which we will now talk about in detail.
The archipelago of the Aegadian islands consists of the islands of Favignana, Levanzo and Marettimo, plus some smaller islets such as the Stagnone and Formica islands. The others are little more than rocks.
A bit of History
The Egadi have been inhabited by man since ancient times: for example, the remains of ancient settlements have been found in Levanzo, as well as in Favignana. The Romans conquered the Aegadian islands in 241 BC, but these were in turn conquered first by the Vandals and later by the Saracens, following the fall of the Western Roman Empire.
It was the Normans who occupied and fortified the Egadi in 1081, while in 1874 they finally became the property of the Florio family who greatly improved their economy focusing above all on the development of tuna traps.
Useful information for your cruise to the Aegadian islands on a sailing boat
Although the Egadi are relatively small, they have such a naturalistic-environmental heritage for which you may regret having decided to spend only three or four days here.
There are so many things to do and see, as we will tell you below, and a week is a perfect time frame to do everything calmly.
For your yacht charter in Sicily we suggest our itinerary in a week, day by day, assuming that your port of embarkation and disembarkation is Palermo. You can possibly decide to rent a sailboat directly in Trapani or Marsala, but in this case the airport would be further away.
The civil airport of Trapani-Birgi "Vincenzo Florio" in fact, is located exactly in front of the Egadi but unfortunately there are very few flights and very few destinations since Ryanair left the airport in the summer of 2018, so you would hardly be able to land there.
However, you can check the map of summer destinations directly on the official website of the Trapani airport.
The Falcone-Borsellino airport of Palermo, on the other hand, is about 85 km from the Port of Trapani, approximately one hour by car, but it is an international airport that reaches every destination.
Aegadian islands on a sailing boat: itinerary day by day
First day: Boarding from the port of Palermo and departing towards the West, following the Sicilian coast in view: here you will first pass the Gulf of Mondello and then Isola delle Femmine, which has a tower dating back to the sixteenth century. If you want to "break" the crossing from Palermo to the Egadi in two (about 9 hours in total), docking at the port of Castellammare del Golfo is perfect.
Here you can stroll inside the tourist port, where there are several high-level restaurants and pizzerias where locals go. Another nice option is to climb the staircase leading to Piazza Petrolo, from which it is possible to enjoy a wonderful view of the entire Marina.
If you don't want to stop in Castellammare, which could be really crowded during the summer, it is possible to have a swim in Terrasini and stay at anchor.
Second day: Navigation from Castellammare del Golfo to the Zingaro Oriented Natural Reserve, established in 1981. The Reserve extends along the coast for 7 km, from the charming town of Scopello in the east to San Vito lo Capo in the west. This area and its surroundings are one of the most beautiful areas in Western Sicily.
Shaped over the centuries by wind and bad weather, the Zingaro Natural Reserve is stunning in its landscapes. The cliffs plummet into the blue sea, and the slopes of the mountains rise steeply to a height of 1,000 meters.
The series of enchanting pebble beaches with clear turquoise waters here are as beautiful as few others in Italy.
Here it is certainly worth spending the day between one swim and another, starting again the navigation to the Egadi at sunset, reaching Favignana in the evening.
Third day: The island of Favignana, the main one of the Aegadian islands, seen from the coast resembles a butterfly with spread wings.
Its name derives from "Favonius", the hot and dry wind. Located about 9 miles from Trapani, the island has beautiful small beaches (Cala Rossa is the most famous), beautiful pristine coves and crystal clear waters that make Favignana a very popular tourist destination for those who choose to spend their holidays in Sicily.
Favignana is a small fishing community that has lived for centuries thanks to tuna fishing. Today, the island boasts the only active tuna fishery in the Mediterranean for commercial purposes: here there is a complex system of networks that start from the shore and enter the sea. From April to May the "Mattanza" takes place, that is the killing of the trapped tuna.
Fourth day: Early in the morning we recommend setting sail for Marettimo, the Aegadian island furthest from the mainland, splendid in its green with high cliffs overlooking the turquoise sea.
Marettimo is considered to be one of the last unspoiled natural paradises in the Mediterranean. The feature of this island, which makes it unique in the world, is its exuberant nature which today offers us a rich fauna both above and below the sea.
For this reason, you absolutely must ask your nautical charter company to provide tubes and masks for all the crew, because it would be a real shame not to be able to admire the submerged landscape of Marettimo.
The mountainous area of the island is populated by wild mountain goats, boars and rabbits. Marettimo is famous above all for its caves, the most famous of which are Grotta del Cammello, Grotta del Tuono and Grotta della Bombarda.
Here you can breathe a deep sense of peace and relaxation, but remember that an authorization is required to reach this area of Marettimo by boat.
Fifth day: Departure for Levanzo, defined by most as a solitary island. A natural oasis for those who love peace in harmony with nature, Levanzo is the smallest and oldest island of the Egadi.
Its coasts are characterized by a continuous succession of ravines and bays, and by visiting the Grotta del Genovese it is even possible to admire some ancient graffiti, dating back to 9200 BC, which testify the presence of an ancient civilization of hunters and tuna boats.
Sixth day: Stay in Levanzo and the opportunity to go around the island aboard the small boats of the local fishermen (they require € 20 per person). It is the best way to get close to pleasant places such as Cala Minnola, Cala Fredda and the Grotta del Genovese if you do not have the authorization to approach by sailing boat.
Seventh day: Return to Palermo. Along the way it is possible to take advantage of it for another swim at the Oriented Zingaro Natural Reserve, as well as in Castellammare del Golfo, Balestrate or Terrasini.
Personalize your tour of the Aegadian islands on a sailing boat
Our itinerary is completely flexible and you can decide to personalize your Egadi tour on a sailing yacht by adding or removing stages.
Each day you can agree with the crew what you would like to do, or entrust every choice to your skipper (if you decide to hire one), who will surely know this navigation area well.
There will certainly be opportunities to swim, snorkel or even try alternative water sports such as SUP. You can also contact the local fishermen, who make their boats available to bring tourists on a fascinating tour of the island, also having access to off-limits areas.
They require around € 20 per person for this and the route includes the entire tour of the island plus three or four stops for swimming, it is really worth it.
Plan the itinerary making sure you never have too long crossings without a stop, but on the contrary always allow time for a stop for a dip or visit a city, perhaps a site of historical or cultural interest and, of course, eat delicacies and enjoy the nightlife!
It is always up to you (or the skipper) to decide whether you want to sleep at anchor in an isolated bay and save mooring costs or moor in the port, clearly a lot depends on the weather and sea conditions.
How does a trip on a sailing boat in Sicily work?
The classic sailing boats for nautical charter, or those to rent, are usually equipped with 3, 4 or 5 double cabins. Very often there is a toilet with shower for each cabin, but it's always better to double check with your nautical charter company as some models may not have a toilet for each one.
These types of boats have a fully equipped kitchen with sink, gas stove and oven, one or two refrigerators with freezers, as well as various appliances such as toasters and coffee makers.
On the boat there is a water heater so that you always have hot water, 12V power supply, many lights both in the common areas and in the cabin, large sofas in the dinette, TV, radio-CD player and various electronic equipment.
Modern boats also have a 220V power system, but it only works when the yacht is moored in port, so hair dryers and other 220V devices can only work in that case, unless there is an inverter on board.
How much does a week charter on a yacht in Sicily cost?
Of course, if you choose to rent a brand new catamaran with 5 cabins, you must take into account that you will spend at least twice as much as a monohull with 4 cabins and 6/7 years of age.
In addition, you must consider other small items of expenditure such as fuel, mooring costs, the galley, final cleaning, among other things.
To summarize, the expenses to be considered when renting a sailing boat for a week in Sicily are:
Cost of renting the boat
Possible remuneration of the skipper (approximately € 150 per day)
Fuel (approximately € 250 for a sailing boat that goes from Palermo to the Aegadian Islands)
Outboard engine (about € 150 for a week)
Galley for a week (about € 250 for 8 people)
Moorings (mooring for a boat about 14 meters long costs on average € 100 per night in the Egadi in August)
Final cleaning (depending on the size of the boat, approximately 120 € / 170 €)
Sheets and bath towels (they can be rented for about 10 € / 15 € per person)
Let's find out more about the Aegadian islands
Maréttimo, whose name derives from the thyme plant so widespread on the island. Among all, it is the island with the most important mountain ranges and above all the largest number of caves, an object of desire of those who love to explore. Among the most famous there are the Grotta del Presepe, the Grotta del Cammello, the Grotta del Tuono and the Grotta della Pipa.
Favignana is the most famous and popular among the Egadi. Here there is the centennial fishing tradition that finds its maximum expression in the "mattanza", that is the capture of tuna in nets. This ancient rite is part of Favignana's folklore and has always been a strong point of its economy.
Lèvanzo is perhaps the least valued island of the Egadi but no less fascinating than the others and its beauty can only be fully understood after setting foot there. In winter, Levanzo is inhabited by about 70 people, a truly intimate and cozy environment that is an integral part of its magic.
What to bring onboard during your sailing holidays in Sicily?
Surely you must not forget to bring your camera, some large SD memory and if possible some spare battery.
Then do not forget absolutely masks, tubes and fins unless your nautical charter company in Sicily provides them directly, double check with them to be sure not to miss the absolute beauty of the seabed in the Egadi.
Secondly remember that you will mostly use t-shirts, shorts and swimsuits, but don't forget also something elegant to be used when you go ashore to visit the cities or to a nice restaurant overlooking the sea.
As for footwear, prefer those with soft or rubber soles, or boat shoes (white soles). Wear shoes and sandals only when you go ashore.
Finally, keep in mind that hard suitcases are difficult to store on a ship, better soft bags that can fit perfectly into the cabinets on board and which also avoid scratching the wooden surfaces.